People like to see things happening automatically or on some sets of algorithms through various smart devices. Smart devices are helping people a lot in modern times. Today I have come across a smart device named "Echo frames". Yes, as the name suggests it is a Frame.
About Echo Frames
Everything is getting smarter and smarter every day like smartphones, smart homes, smart computers, smartwatches, smart TV, etc. The echo frame is introduced by Amazon. Echo frames work with Amazon's online assistant called Alexa. Just like Google introduced Google glass which works with Google Assistant. Amazon has recently announced a heap of smart devices like Echo smart speakers, smart rings, smart home security, etc.
The echo frame comes for $180 (Rs.12, 827 approx.). The weight of the frame is around 31 grams (1.1 ounces). The weight of the frame is lighter than regular glasses. It is constructed from TR-90, carbon fiber, and titanium. The frames only work online and not offline. There is a bit of delay as commands go to the cloud and come back. The frame comes with normal glasses but if you want, you can also use the prescription glasses in the frames. Frame comes with a charging cable, power adapter, and carrying case.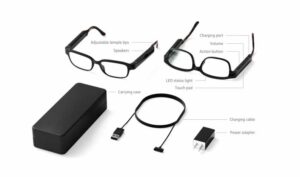 Features :
It is compatible with android 8.0 and a higher version but there is no support for iOS yet.
It consists of a microphone, 4 speakers, buttons, a swipe area, blue light, and a charging port.
Blue light indicates that Alexa is listening
There is a button on the underside of the right temple which switches on listening.
Microphone helps you talk to Alexa to call, give commands to hear music, make notifications, etc.
Speakers will let you hear music or Alexa. 2 speakers per temple will let you hear fine even in a crowded place.
The swipe area on the right temple is sensitive and use to swipe forward or backward to respond or ignore notifications.
It claims 14 hours of battery life with intermittent use. The frames get fully charge in about 75 minutes.
The frame is just not limited to Alexa but also works on Google assistant. To activate Google Assistant, long tap on the button which is outside of the right temple.
You can get the frame by early invitation only so go and apply for it.
Liked reading this article? Find more such relatable topics below