In business, the supply chain is a system of organizations that leads to better-planned overall production and distribution, which can cut costs and give a more attractive final product, leading to better sales. A conveyor system is a common piece of mechanical handling equipment that moves materials from one location to another. Conveyors are especially useful in applications involving the transportation of heavy or bulky materials. While there are many different kinds of conveyor systems, they usually consist of a frame that supports either rollers, wheels, or a belt, upon which materials move from one place to another.
Celluveyor is a unique flexible modular conveying and positioning system, based on cellular conveying technology.
About CelluVeyor:
A team of researchers at BIBA was inspired to develop an innovative way of bringing conveyors to the next level after watching an impressive soccer game where the players were all robots. The Cellular Conveyor, abbreviated Celluveyor, is a highly flexible modular conveying system with omnidirectional drive technology. The system consists of several small hexagonal modules. These modules contain omnidirectional wheels, which are individually and selectively controlled by an electric motor. The special arrangement of the wheels, with the selective control of the drives, enables the logistics operator to move and position several objects simultaneously and independently on any track.
Process adaptability
Through a simple software update and without mechanical modifications, the system can be converted.
Layout flexibility
A change of the Celluveyor's layout is detected by the control software and adjusted accordingly, without having a longer downtime.
Throughput resiliency
If a conveying system reaches full capacity, it will be replaced or supplemented by a second machine.
Ease of maintenance
If a conveyor module fails during the operation, it is detected by the controller. It will be disabled and be bypassed by the packages.
Energy efficiency
The short-term activation of the drives that are actually in contact with the conveyed goods and low internal friction of the mechanical components enable high energy efficiency.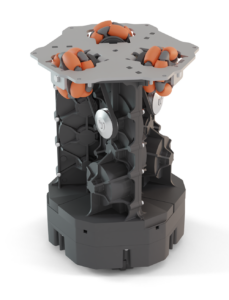 Working of CelluVeyor:
The overall functionality of the Celluveyor can be adapted practically by pressing a button. The basic idea of cellularity enables high adaptability of the layout of the conveying system. Due to its high flexibility, the Celluveyor fits all conceivable tasks of conveying technology. As a modular and multi-directional conveying system for complex tasks, it is suitable for almost all intralogistics applications and fulfills a variety of necessary product characteristics for Industry.
The Celluveyor can be adjusted efficiently by simply adding or removing modules to the new throughput. Objects can be transported independently of shape and size. They only need to have at the dimensions of a module and have a flat contact surface. The modular structure, the high adaptability, and the low space requirements make the Celluveyor an innovative leap in material handling.
In today's manufacturing and distribution industries, the demand for dynamic equipment is larger than ever, especially when considering the volume and complexity at which products are being moved through the supply chain.
The Celluveyor covers complex material handling tasks in a minimum of space. The Celluveyor meets all requirements for modern intralogistics systems simultaneously including economic aspects.
If you enjoyed reading this blog, you can also check out:
HOMEBIOGAS 2.0 – TRANSFORM YOUR WASTE