Air pollution occurs when harmful or excessive quantities of substances including gases, particles, and biological molecules are introduced into the Earth's atmosphere. Air pollution in India is a serious issue. 13 of the world's 20 cities with the highest level of air pollution are in India. In urban areas, most emissions come from vehicles and industry, whereas in rural areas, much of the pollution stems from biomass burning for cooking and keeping warm.
Air pollution contributes to the premature deaths of 2 million Indians every year and is responsible for 12.5 percent of all deaths in the country, according to a study released on World Environment Day 2019.
Prana Air Purifier:
Established in 2016, Purelogic Labs India is an initiative to increase awareness about air pollution in India. It is located in New Delhi, India, and its manufacturing units are based in Shenzhen, China. Prana Air, an e-commerce platform is launched to ensure the best of the air quality for both indoors and outdoors. Incepted from a personal experience of not being able to breathe fresh air, as no city in the country is immune to pollution anymore, and they aim to provide high quality, yet affordable, anti-pollution solutions, protecting people from the life-threatening effects of the polluted air. After a series of testing prototypes and satisfactory customer validation, they have come up with an effective air purifier and pollution mask that improves the quality of the air we breathe.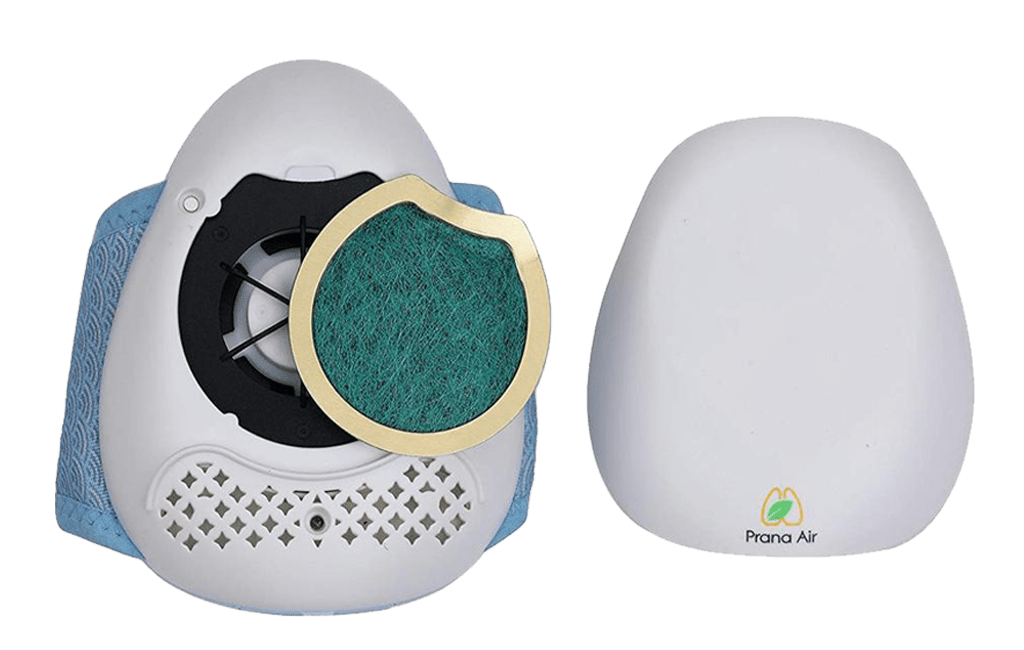 Prana Air Purifier Mask (For Adults):
Product Features:
5 Layer Hepa Filters
Pre-filter
White filter
HEPA filter
HEPA (High-Efficiency particulate Air) filter is one that can capture 99.97% of dust particles and other microbes in the air
Maximum protection from PM2.5, pollen, dust, and smoke. (PM 2.5 – is a mixture of extremely small solid and liquid particles present in the air that are not visible to the naked eye. They measure less than 2.5 micrometers in diameter, which is 30 times smaller than the human hair.)
Control the air volume and circulation with different modes
Acts as a wall between outdoor polluted air and indoor purified air
Advanced filtration technology to filter polluted air particles
Easily rechargeable battery with a micro USB cable
6-Hours Battery Life
62-78 Grams Lightweight
Working:
Prana Air Mask for adult which has highly advanced air filters, The best thing about the air mask is that it has a micro-ventilator which eliminates the unpleasant build-up of carbon dioxide, and prevents you from breathing in recycled air. It can be easily charged with Android chargers or even in your laptop and comes with different fan modes. It is adjustable depending on the pollution level.
The anti-pollution mask can be worn anywhere. Prana Air Adult Mask is perfect during sports activities, such as marathons, evening joggings or even a cricket match. Wherever you go, you are covered.
At least 140 million people breathe air 10 times or more over the WHO (World Health Organisation) safe limit. We are constantly facing a high risk of developing a respiratory disorder. The purpose of owning an air pollution mask and air purifier is making more sense with every passing day.
If you willing to buy it or know more about it, you can visit the official site from here: https://www.pranaair.com/n95-pollution-mask/
Pic Courtesy: Purelogic Labs
Editor: Miinaz Vadaliwala